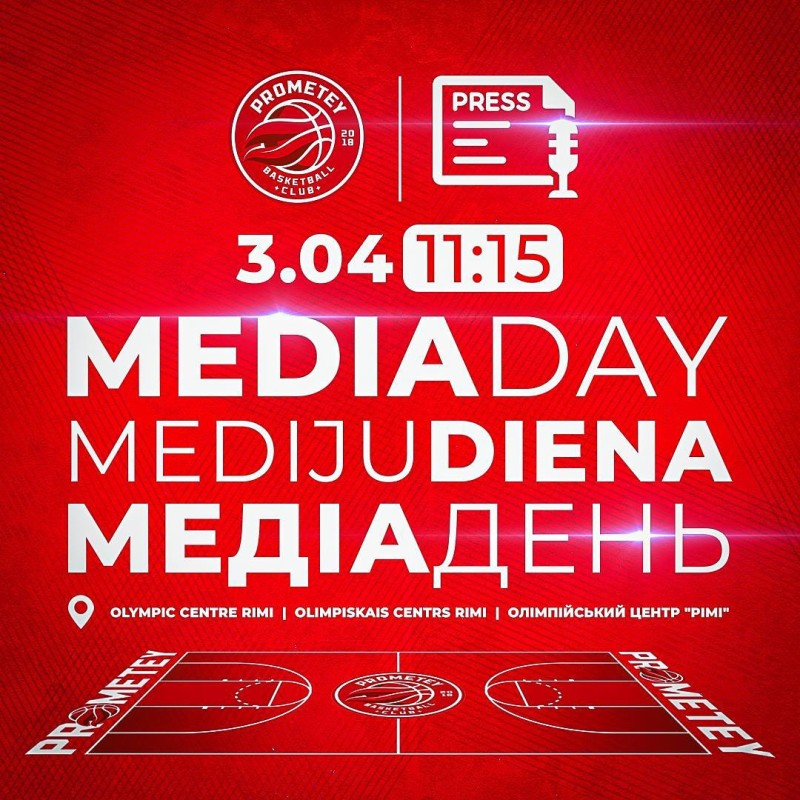 Basketball club "Prometey", which plays home games in Riga due to the war in Ukraine, invites journalists to an open training session.
The training session will take place on April 3 at the Olympic Cenre Rimi (Riga).
- 11.15 - mass media gathering in the foyer of the Olympic Centre Rimi
- 11.30 - 11.45 - video and photo shooting of the training session
- 11:45 - 12:00 - interview with BC "Prometey" players and coaches.
Ukrainian basketball club "Prometey", in its very first season in the 7DAYS EuroCup, became the winner of the group, having won 11 straight victories within previous four months!

"Prometey" is forced to hold its debut season in the EuroCup 1,500 kilometres away from home due to Russian aggression in Ukraine. The capital of Latvia became the second home for Ukrainian team. And despite such difficult trials, "Prometey" entered the 7DAYS EuroCup playoffs from the first place in the group!
On April 11 at 19:00 at Arena Riga, BC "Prometey" starts the 7DAYS EuroCup playoffs, our opponent is "Hamburg Towers" from Germany.
Media accreditation:
+371 273 39260 Alina alinkagrechnikova@gmail.com
+371 253 12723 Anna anna.polegenko@gmail.com