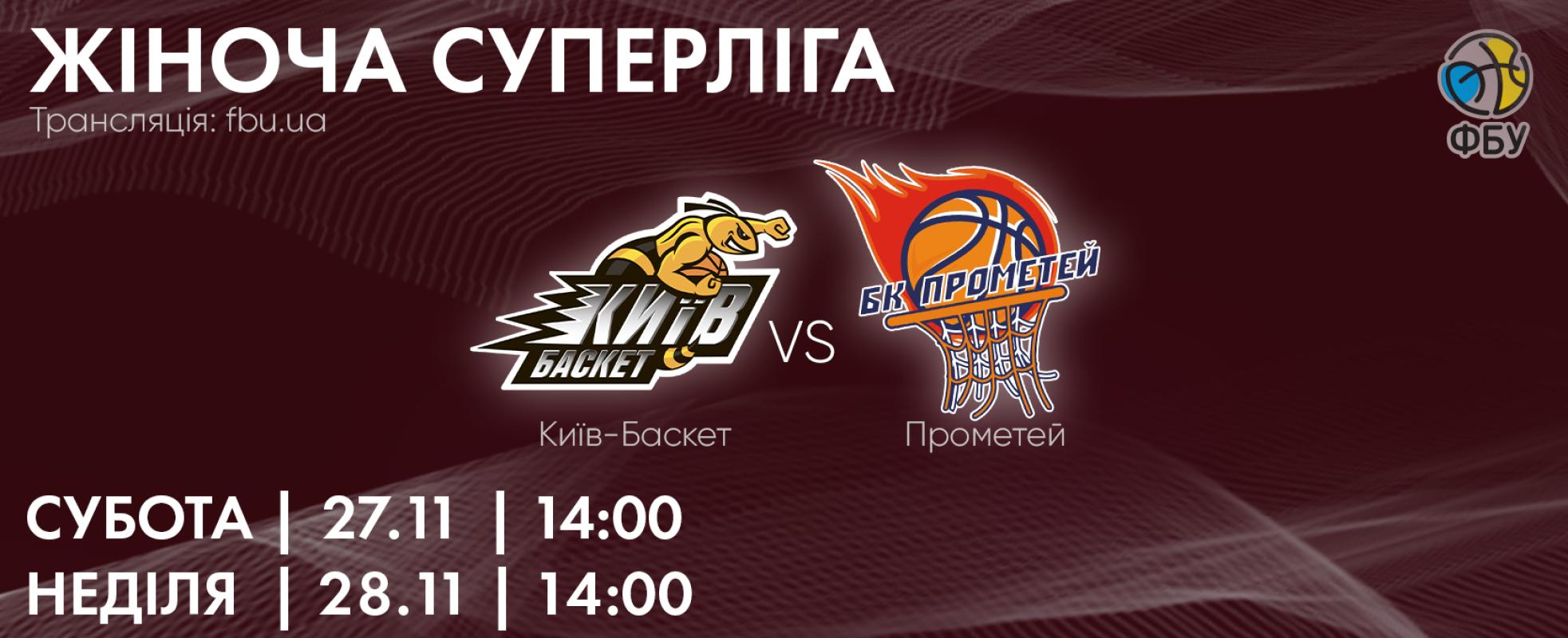 BC "Kyiv-Basket" - BC "Prometey". November 27-28. Both matches are at 14:00. 7th paired tour. Women's Superleague. Kyiv. PS "Veneto". Broadcast - fbu.ua.
The final matches of the first round of the domestic women's Superleague will take place in the last weekend of November. Undoubtedly, the central matches of the 7th game week will be those that will take place in the capital's sports complex "Veneto". The finalists of the playoff season 2020/2021 the capital "Kyiv-Basket" and our "Prometey" will meet there on Saturday and Sunday.
As well as last season, Kyiv-Basket is one of the main pursuers of Victoria Bolshakova's team. Currently, the capital's club has won 10 out of 12 matches, as well as its compatriot Budivelnyk-NUFVSU. Two failures of "Kyiv-Basket" occured in the current championship in the matches with "Budivelnyk".
Thus, the complete success in the paired tour will allow "Kyiv-Basket" to catch up with "Prometey" and this is a great motivation for the team of Vladimir Kholopov. As in previous championship matches, "Kyiv-Basket" is betting on the American legionnaires of the team. Guard Yeshia Small and center Sierra Johnson share 7th and 8th place in the list of the best shooters of the championship with a score of 17.33 points per match. At the same time Small and Johnson are only 0.5 points behind our Ariel Atkins. In addition, Sierra Johnson, who has repeatedly reached the symbolic five of the week since the start of the championship, is also the best rebounder in the league (11.42 rebounds per match). 25-year-old guard Tyler Deer is one of the undisputed leaders of Kyiv-Basket. Tyler is the 6th assistant in our Superleague.
Experienced Taisiya Udodenko (4th rebounder of the championship) and Anna Olkhovyk are always ready to support their American partners, as well as promising Ukrainian youth - Anzhelika Lyashko, Daria Dubnyuk, Anna Sugak, Victoria Babych and Natalia Tsyubyk. Everything points out the fact that Prometey will face difficult and at the same time exciting for basketball fans matches. On November 27 and 28, the teams will come out to the court of the Kyiv sports complex "Veneto" at 14:00 and the course of events in the matches can be followed via online broadcasts on the website of the Basketball Federation of Ukraine.