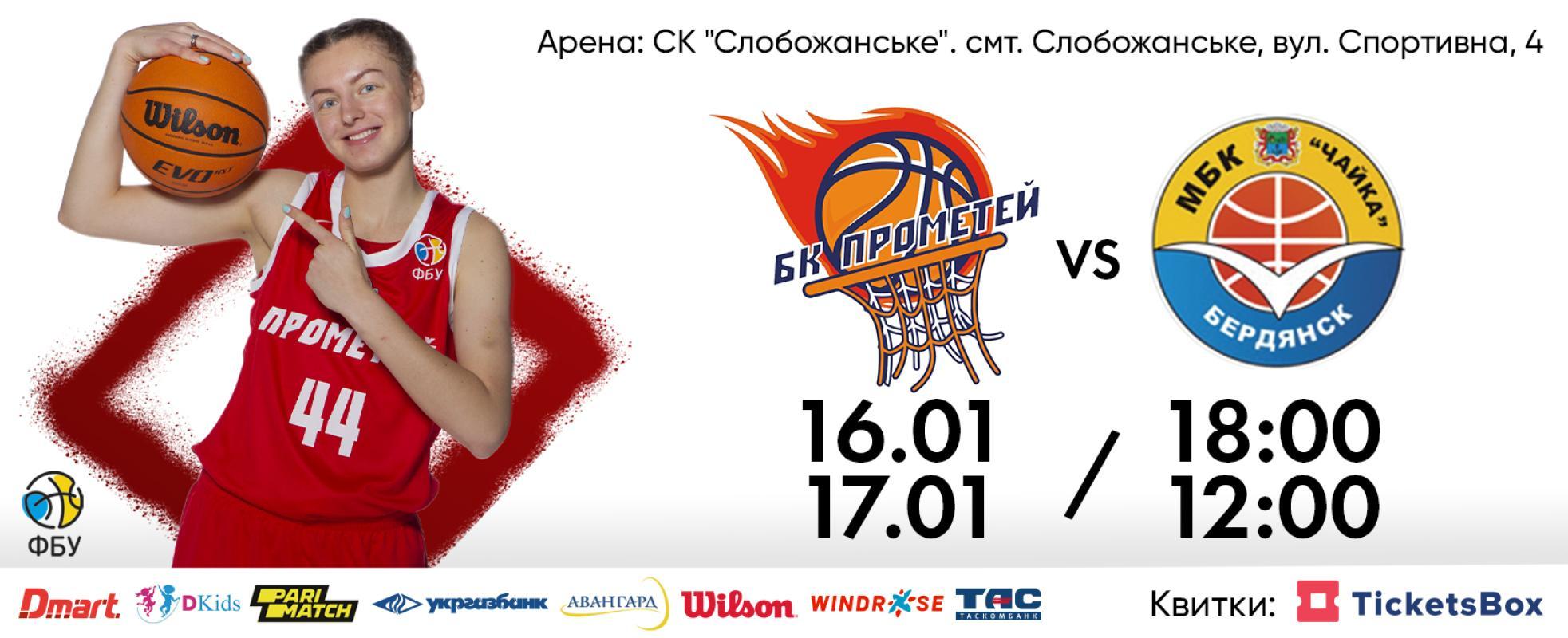 BC "Prometey" - BC "Chaika-CYSS-Berdyansk". January 16-17. 18:00 and 12:00. 10th paired round. Women's Superleague. Slobozhanske. SC Slobozhansky. Broadcast - fbu.ua.
The Prometey women's team continues to represent Ukraine in the European arena. The away victory over the Belgian "Castors Brain" in the 1/8 finals of EuroCup Women has strengthened the authority of our team on the continent, which this season is constantly growing from match to match. So far, "Prometey" has done only half the way: the second match is ahead in Slobozhansky, and between the matches with the leader of the Belgian championship, the champion of Ukraine will play another paired round in the domestic Superleague. Chaika-CYSS-Berdyansk will host the Red and Whites on their site.
Currently, Prometey's rival is on the last line in the standings with only 2 wins in 18 matches. Dynamo Kyiv has the same tournament figures. However, Kyiv women are ahead in personal meetings: in the first match they were stronger than Berdyansk basketball players (83:75), and in the second they lost to them with a smaller difference (66:71). Chaika-CYSS-Berdyansk won its second victory in December last year, shortly before the New Year's break in the championship, when they were minimally stronger than Frankivsk-Prykarpattya - 78:77. In that match Alyona Samokhvalova and Taylor Jones made the main contribution to the victory of the "Chayka": 18 points each and Valeria Desyatnik - 17. 5 
The potential of Chaika's line-up allows her to claim a place in the playoffs. Currently, the Berdyansk club has to look at every next game from this perspective. Matches with "Prometey" are not exception, although it is clear that the chances of winning in each confrontation of the tour are much higher for our girls. In the first round, Prometey confidently won twice - 81:54 and 82:48. The answer to the question of whether the balance of power has changed since then will be given in the next two days.
On January 16, "Prometey" and "Chaika-CYSS-Berdyansk" will come out to the site of SC Slobozhansky at 18:00, the next day - at 12:00. The course of events in the matches can be watched via online broadcasts on the website of the Basketball Federation of Ukraine. To buy tickets for the game, you need to use the "Online Tickets" section on our club website: prometeybc.com.