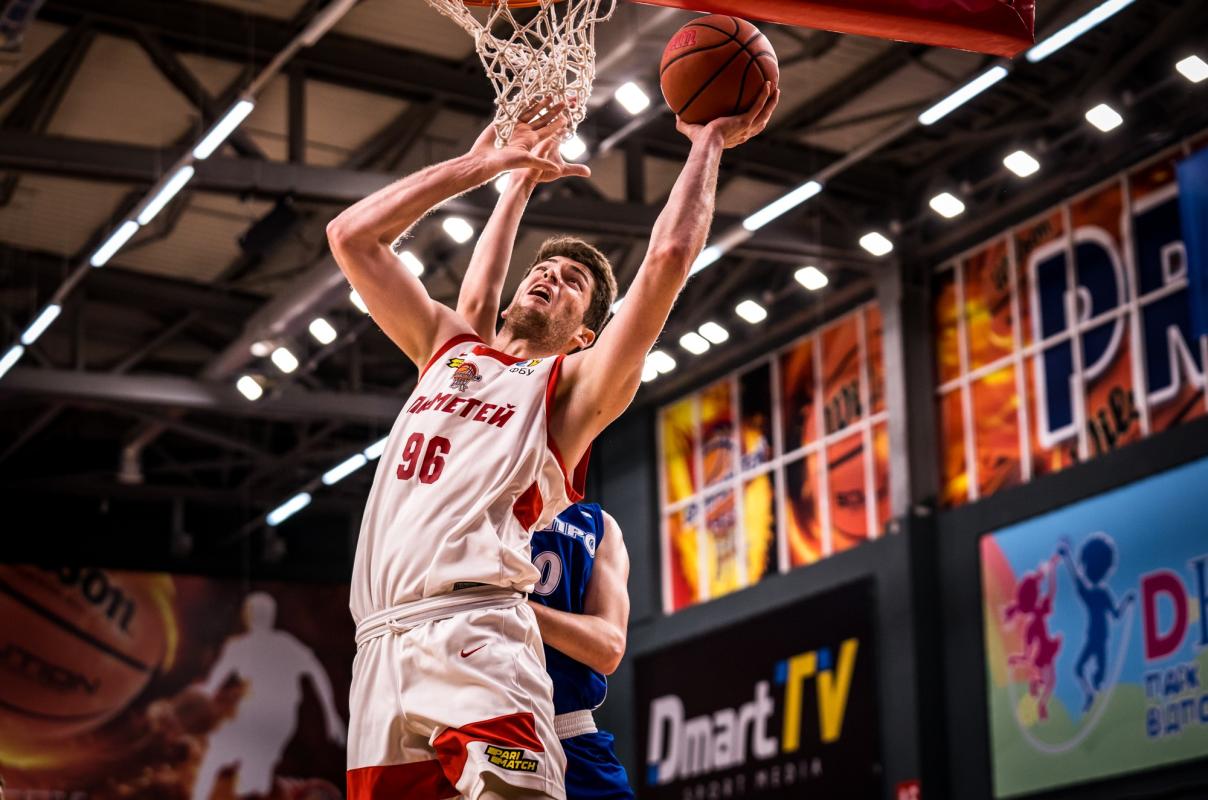 BC "Prometey-2-DDTU" - BC "Dnipro-2-DVUFK-SDYSSOR N5" - 92:60 (27:17, 28:21, 22:12, 15:10). January 21. High League. 9th paired tour. 1st match. Slobozhanske. SC Slobozhansky. 150 spectators.

Judges: Eduard Telcharov, Oleksiy Salo, Andriy Fedorchenko.

BC "Prometey-2-DDTU": Bryniuk * (16 + 7 assists + 6 steals), Horobchenko * (10 + 5 assists), Bublyk * (14), Pirohov * (9 + 6 rebounds), Klimov * (14 + 5 assists), Orzul (9 + 6 rebounds), Horkovenko, captain (4), Novikov (0), Hladun (0), Bezyma (14), Melnyk (2), Sturov (0).

BC "Dnipro-2-DVUFK-SDYSSOR N5": Belkin * (14 + 11 rebounds), Zavgorodniy * (9 + 3 assists), Karasev * (2 + 4 assists), Dyatlov * (6), Jerikhov * (12 + 3 assists), Bachurin (10 + 3 assists), Okoyeze (7).
Even before the first match of the penultimate paired tour in the 1st group of the High League championship between "Prometey-2" and "Dnipro-2-DVUFK-SDYSSOR N5" all other matches of the round were played. The main competitor of our team in the fight for the first place in the group of BC "Mariupol" won only one victory in Cherkasy over the reservists of "Mavpy", and therefore the complete success of Dmytro Markov's team in the round gave them an undeniable leadership.

With half of the tasks for this tour, the "red and whites" did just fine! Already in the first four minutes, their handicap reached an ambiguous mark (14:4); Mykhailo Bublyk scored 8 points. "+10" in favor of "Dnipro" glowed on the board even after the first ten minutes. When the second quarter started, Dmytro Markov's team stunned the opponent with a "dry" effective series of 11:0 (6 points by Maxym Bezyma). Already in the 14th minute, the difference in points in favor of "Prometey-2-DDTU" exceeded two dozen points - 42:20. In the second half of the quarter, Dnipro slightly reduced their gap due to hits from the perimeter by Fedor Zavgorodny, but this ten-minute section remained for the hosts.

"Prometey-2-DDTU" in general managed to hold this match evenly, without even minimal failures. Our team was stronger than the opponent in each of the quarters, and two of them - the first and third - were won with the difference of 10 points. As a result, the advantage of our team exceeded three dozen points, and tomorrow at 15:00, the teams will again go to the site of SC Slobozhansky. It is unlikely that for "Prometey-2-DDTU" second match will be as easy as the first one. Moreover, it is quite probable that tomorrow "Dnipro-2" will be strengthened by Ivan Koldomasov who was involved in the main line-up of "Dnipro" today in a duel in Mykolayiv.