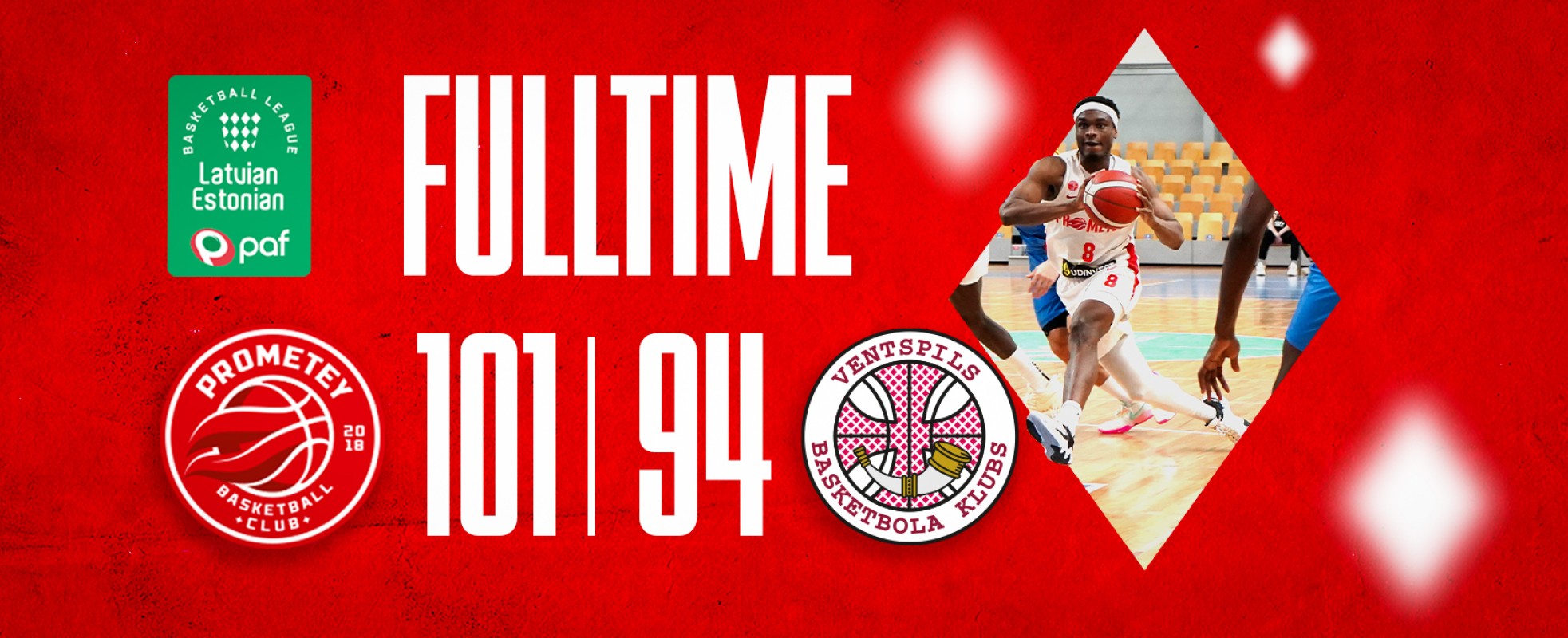 BC "Prometey" - BC "Ventspils" - 101:94 (35:25, 23:28, 24:22, 19:19). March 18. Latvian-Estonian basketball league Pafbet. Riga (Latvia). Olympic Centre Rimi. 134 spectators.
BC "Prometey": Tkachenko* (4), Balvin* (14 + 10 rebounds), Clavell* (4 + 3 steals), Sydorov* (14), Stephens* (24), Lypovyy (6), Sanon (8), Dickey (5), Agada (15 + 8 assists + 3 steals), Lukashov, captain (7), Petrov (0).
BC "Ventspils": Gandia-Rosa* (32 + 8 assists), Auseis* (6), Selakovs*, captain (9), Wembi* (7 + 6 rebounds), Mediss* (12 + 3 steals), Kulakovskis ( 0), Sipolins (15), Elksnis (0), Ozers (0), Bumeisters (13).
"Prometey" finished the regular season of the Latvian-Estonian league Pafbet with a match against BC "Ventspils". The first stage of the tournament was going on under the sign of Ukrainian club's dominance. Ronen Ginzburg's team became the winner of this stage back at the beginning of March. Today's success was going to be the 29th one in 30 played matches. "Prometey" hosted the opponent, for whom it was important to keep their current fourth position. It could give "Ventspils" the advantage of home arena in the quarterfinal confrontation against Estonian "Tartu Ulikool", which will start in a week. Therefore, today's confrontation promised to be feisty and interesting.
In this regards, the match completely met expectations. In its debut, both rivals preferred fast offense to positional one. During first four minutes, the teams successfully attacked opponent's hoop from the perimeter, DJ Stephens and Gandia-Rosa distinguished twice. Unbelievable in the last matches, DJ started the match brilliantly, having scored in the first four-minute segment 11 points.
"Ventspils" tried to be competitive, maintaining a high-speed pace. However, before the first break, the hosts made a jerk of 10:0, which set their handicap ta two-digit mark – 35:25. During the first two minutes of the second quarter, this advantage was increased one and a half fold. To the credit of the guests, they cut their lag in half. Both opponents played open basketball, and even before the long break, the productiveness of each of them reached fifty points.
After the break, the teams started playing more contact basketball. As a result, their productiveness fell down, but still was quite high. The game was going on with a slight advantage of Ukrainian club. "Prometey" constantly led in score and brought the match to another victory. At the same time, the opponent deserved only compliments as well, as in the penultimate minute they were losing by just four points.
Now, in the LEBL quarterfinal stage of the play-off, "Prometey" will play Against Estonian club "Viimsi/Sportland" in a series of up to two wins.
Natural mineral water "Vytautas" is the official hydration partner of BC "Prometey"