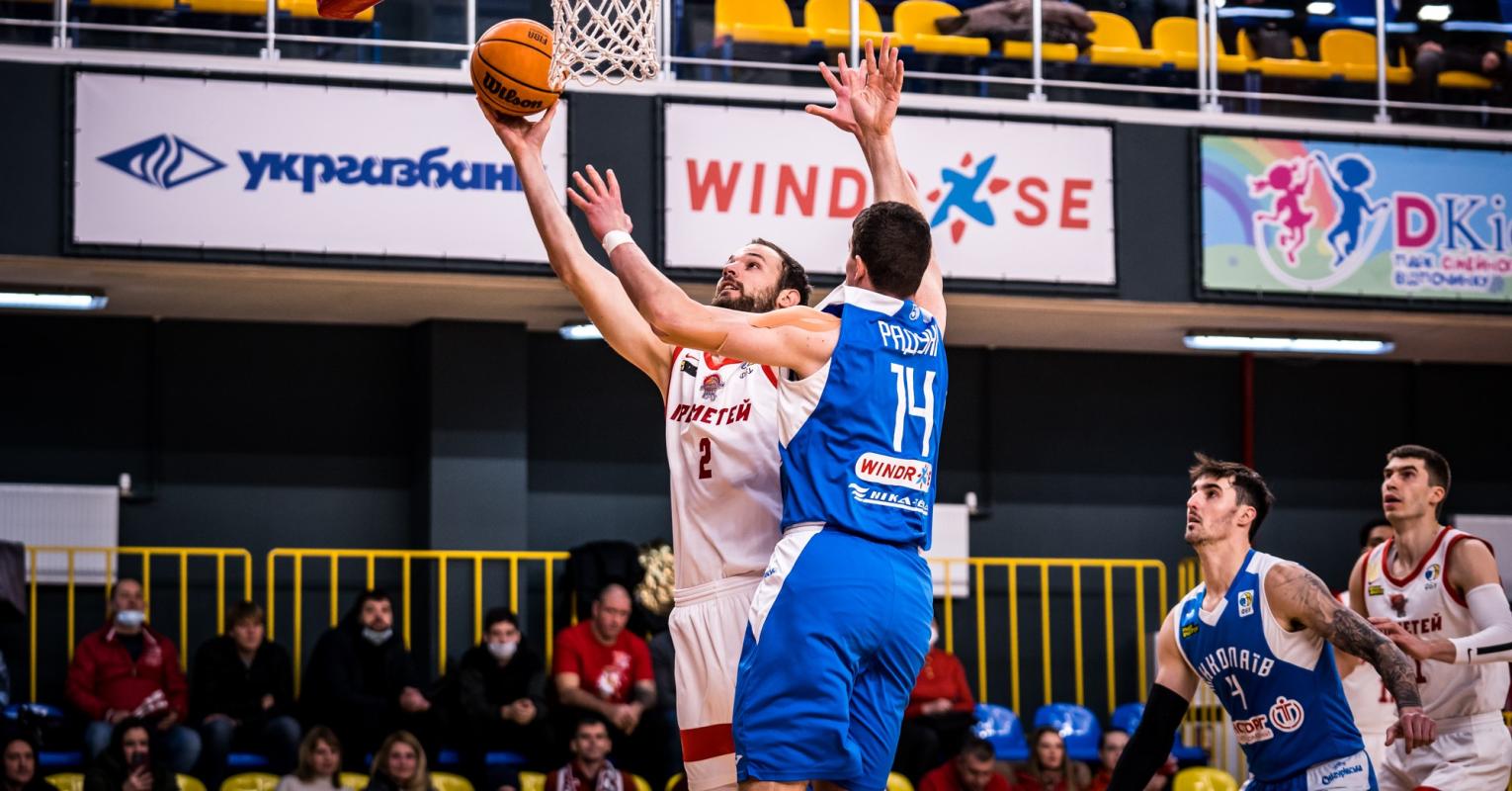 BC "Prometey" - MBC "Mykolayiv" - 103:84 (25:23, 24:25, 29:14, 25:22). January 14. Windrose Superleague. 13th tour. Slobozhanske. SC Slobozhansky. 270 spectators.

Judges: Vladislav Isachenko, Vyacheslav Slyusar, Eduard Telcharov.

BC Prometey: Lypovyy * (6 + 10 rebounds), Kennedy * (16 + 9 rebounds), Harrison * (14), Bilan * (14 + 9 rebounds + 4 assists), Sydorov * (18), Lukashov, captain (3), Stephens (11), Dowe (16), Mishula (0), Belikov (4), Tikhonov (1).

MBC "Mykolayiv": Barnis * (2 + 5 rebounds), Hearst * (37), Walker * (6 + 6 assists + 3 steals), Radunich * (7), Tishchenko *, captain (12), Dubonenko (8), Khokhonik (3), Zaplotynsky (0), Kozhemyakin (9), Lukyan (0).
Just 43 hours after the end of the failed Champions League match in Jerusalem, Israel, Prometey cane out to the court to play an official match, this time as part of the Windrose Superleague. The last team of the league for today, MBC "Mykolayiv" came to visit our team and it seemed that "red and white" wouldcontinue the winning series without any major problems.

In fact, it turned out that the Mykolayiv club did not enter the game doomed and from the beginning started to put persistent resistance to the sole leader of the championship. "Mykolayiv" were not upset by the first jerk of the hosts (9:2), which was organized during the first three and a half minutes. In the guests' team, there was a real leader - Zaid Hearst, who, with enviable consistency began to рше the hoіе's basket from the middle distance. His example was followed by Ihor Dubonenko and the captain of the guests Oleksander Tishchenko, who hit from the perimeter, and Dubonenko in the 7th minute managed to bring "Mykolayiv" forward (12:11).

"Prometey" quickly regained the lead, but after the siren for the first break, rivals were separated by only two points. Then "Mykolayiv" "remained in the game" for another ten minutes. The guests were significantly behind the "red and whites" in the number of rebounds, but this was balanced by the excellent implementation of three-point shots (5 successful attempts out of 10 in 20 minutes). "Mykolayiv" even managed to win the second quarter, and immediately after a long break, tireless Hearst brought his team forward - 51:49. Only after that, "Prometey" established dominance on the court. At the right moment, DJ Kennedy scored 6 points, and after the floater by the most productive player of our team today, Illia Sydorov, their handicap for the first time in this match exceeded the double-digit mark - 66:55. Ronen Ginzburg's team was constantly increasing their dominance and in the last minute of the quarter after a shot from the arc by D'Angelo Harrison, it reached almost 20 points.

The third quarter was decisive in this match. In the last ten minutes, "Prometey" completely controlled the game and calmly brought the match to victory. Now our team is completely switching to preparing for the second match with Hapoel Jerusalem, which will take place in Zaporizhzhia on January 18.