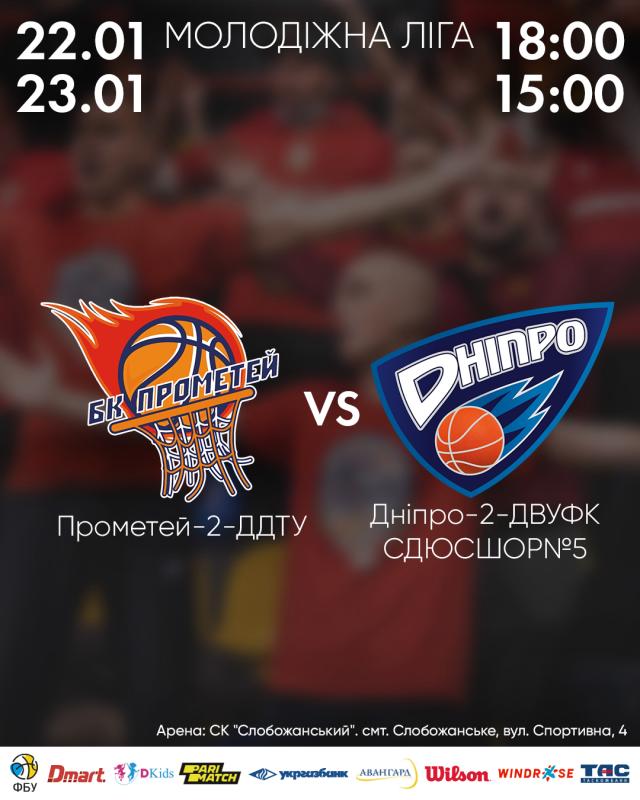 This weekend, on January 22 and 23, within the framework of the regular championship of the youth league BC "Prometey-2-DDTU" will play paired matches with BC "Dnipro-2-DVUFK-SDYSSOR№5". The match will start at 18.00 on Saturday and at 15.00 on Sunday.

To buy tickets for these games you need to use the section "Online tickets" on our club website: prometeybc.com.

WARNING! We remind you that you can visit the games if you have, in addition to a ticket, a negative COVID-19 test by PCR or rapid test for coronavirus antigen SARS-CoV-2, which was conducted no more than 72 hours before the start of the game or document confirming receiving of a full course of vaccination, international, domestic or foreign certificate confirming vaccination against COVID-19 with one dose of single-dose vaccine or two doses of two-dose vaccine (green certificates), validity of which is confirmed by the Unified State Web Portal using the mobile application of the Action Portal (Diya). If a certificate is presented, the person must also provide proof of identity.

We are waiting for you in the stands!