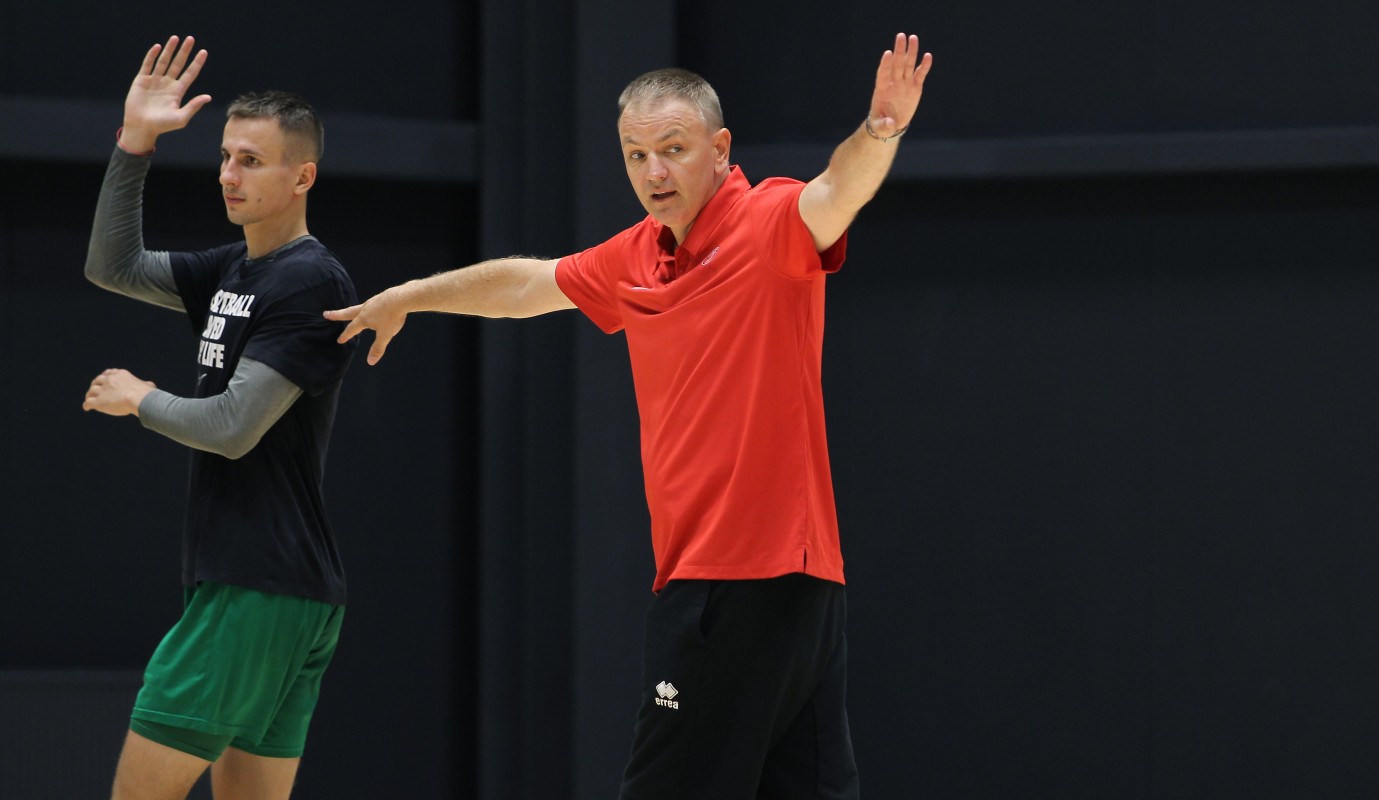 The other day, the youth of "Prometey", which became part of the team under the leadership of Oleksandr Pashchenko, started the training process in the new sport hall in Slobozhanskyi. Pashchenko is known not only as a coach who was involved in training half of the players of the national team, but also as a player who holds the record for performance in the 1999/2000 Superleague season. In the match between "Ferro" and "Azovbasket", Oleksandr brought 51 points to Zaporizhzhia and became the most productive player of that championship - 24.1 points on average per game, surpassing in this component one of the most famous snipers in the history of the Superleague, Oleksandr Raevsky (23.9). Our coach was also in the symbolic team of the Superleague at the time, according to the version of the "Komanda" newspaper. The press service of the club spoke with the new coach of "Prometey" about his career, the secrets of raising a successful basketball player and about further plans, tasks and goals in work.
- Oleksandr, we are glad that you have joined our team. How did this collaboration come about? Why did you decide to choose "Prometey" to continue your work?
-First of all, I want to thank the club's management - President Volodymyr Dubynsky and CEO Pavlo Chuhno, who, in fact, personally invited me to "Prometey". And I am grateful that I was invited to do what I love.
-Two days before the start of the war, you played for BC "Mariupol". The morning of February 24 changed life forever. Do you remember your feelings then? And what do you think now about what is happening in Ukraine?
- The feelings were genuinely scary. I still cannot understand what for, how and why. Someone is not able to work because of the war, because of these inhumans. Of course, I am primarily talking about our field - sports. This is not to mention how many lives have been ruined, how many futures have been mutilated by this war. Not only does it affect our country as a whole and our economy, but it also affects the families that have been separated. All this is terrible.
- Let's return to club affairs. Please tell us about the players who you will work with in Prometey, about the team in general. Who will work with you? Who will help?
-Vadym Matiukevych and Oleksandr Medvid will help. These are people I trust. We worked with Oleksandr in the "Khimik" system, he is a highly qualified specialist. I have known Vadym for a long time. We once played in the same team, we are friends. Accordingly, the choice fell on him, because we always want to be next to close people, even in sports.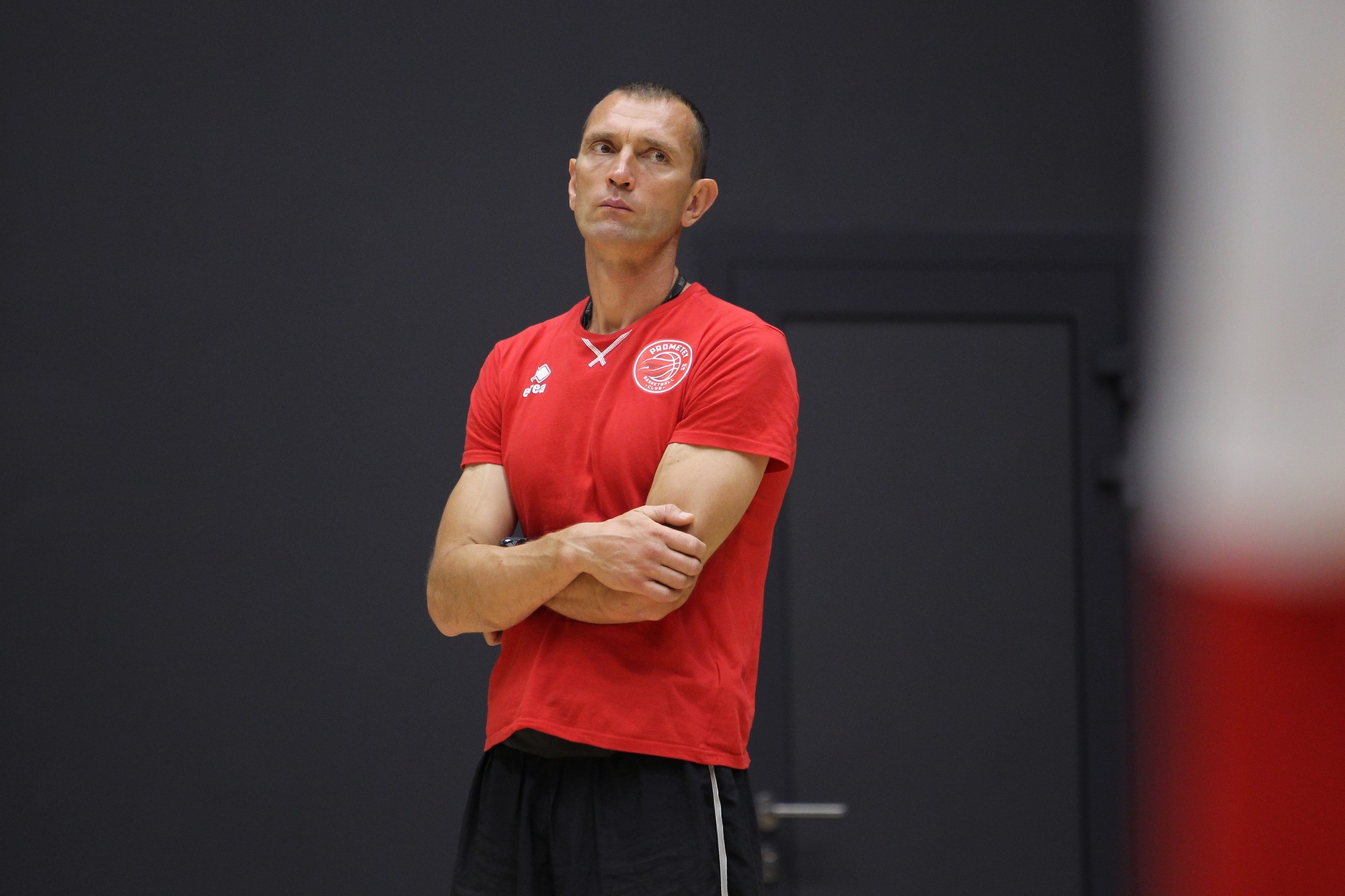 - About the players. How did you select them?
- I told them the same thing – here, I gathered the best ones, in my opinion. If even I am wrong, then you must become the best. And then this is our work, our joint work. We will try to make the guys really the best young players.
- What tasks do you set for the boys and for yourself?
- Always maximum. The guys gathered here know this too. They don't need any explanation. Everyone knows me, hears me. If I want something, I want it at a high level. I know that the managers of "Prometey" also want only the maximum. We will try to do what depends on us and what the management wants to see for today.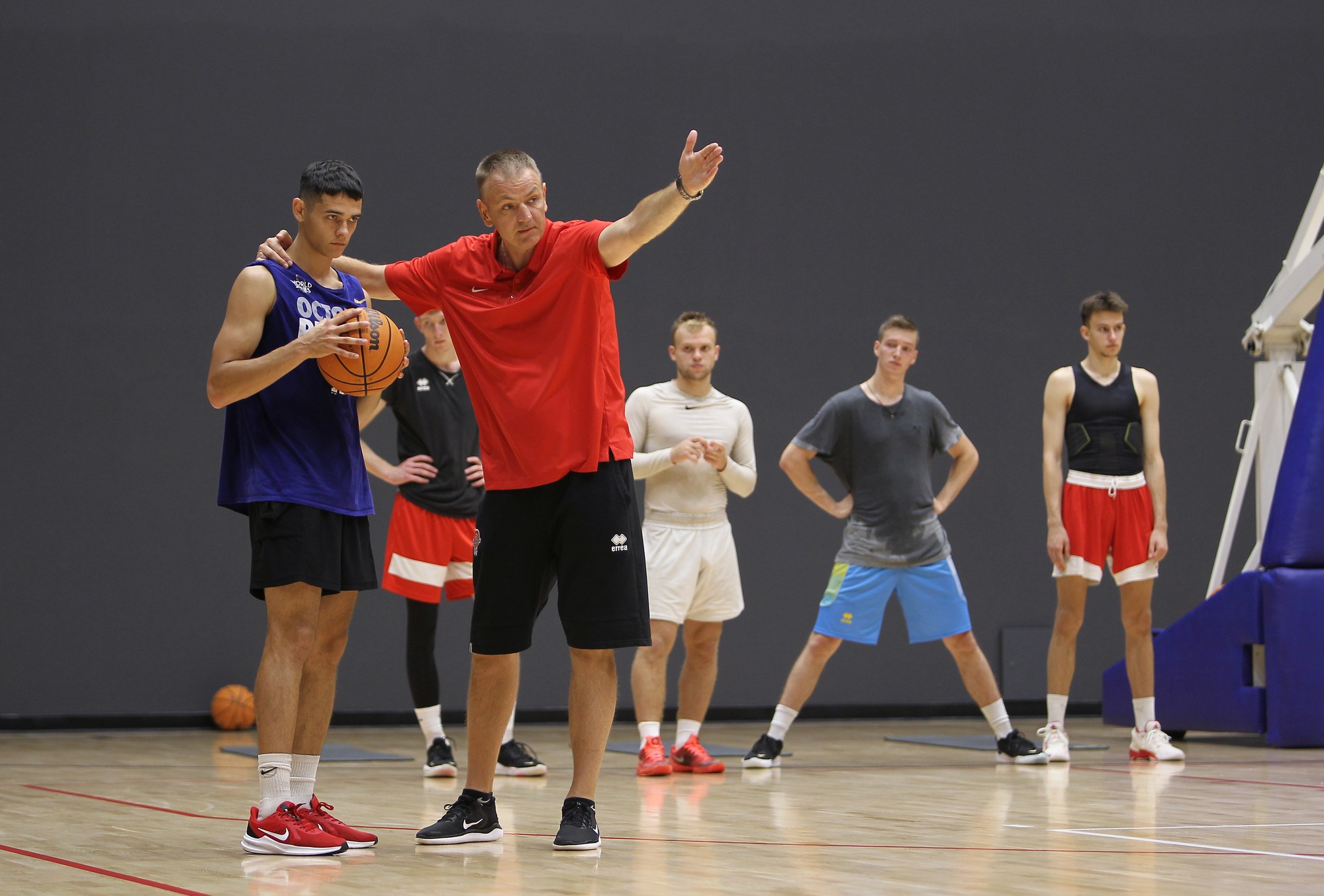 - How do you like the new sports hall, by the way? You trained there today.
- Hall... This is a temple! I always say that we are entering the temple. Today, you can count such halls on your fingers. If we take the conditions that have been created here, then, probably, there were no such conditions in Ukraine and there are none. Only "Khimika" used to have something like. However, 20 years ago. But over time, of course, it got worse. And today there is no such hall in Ukraine.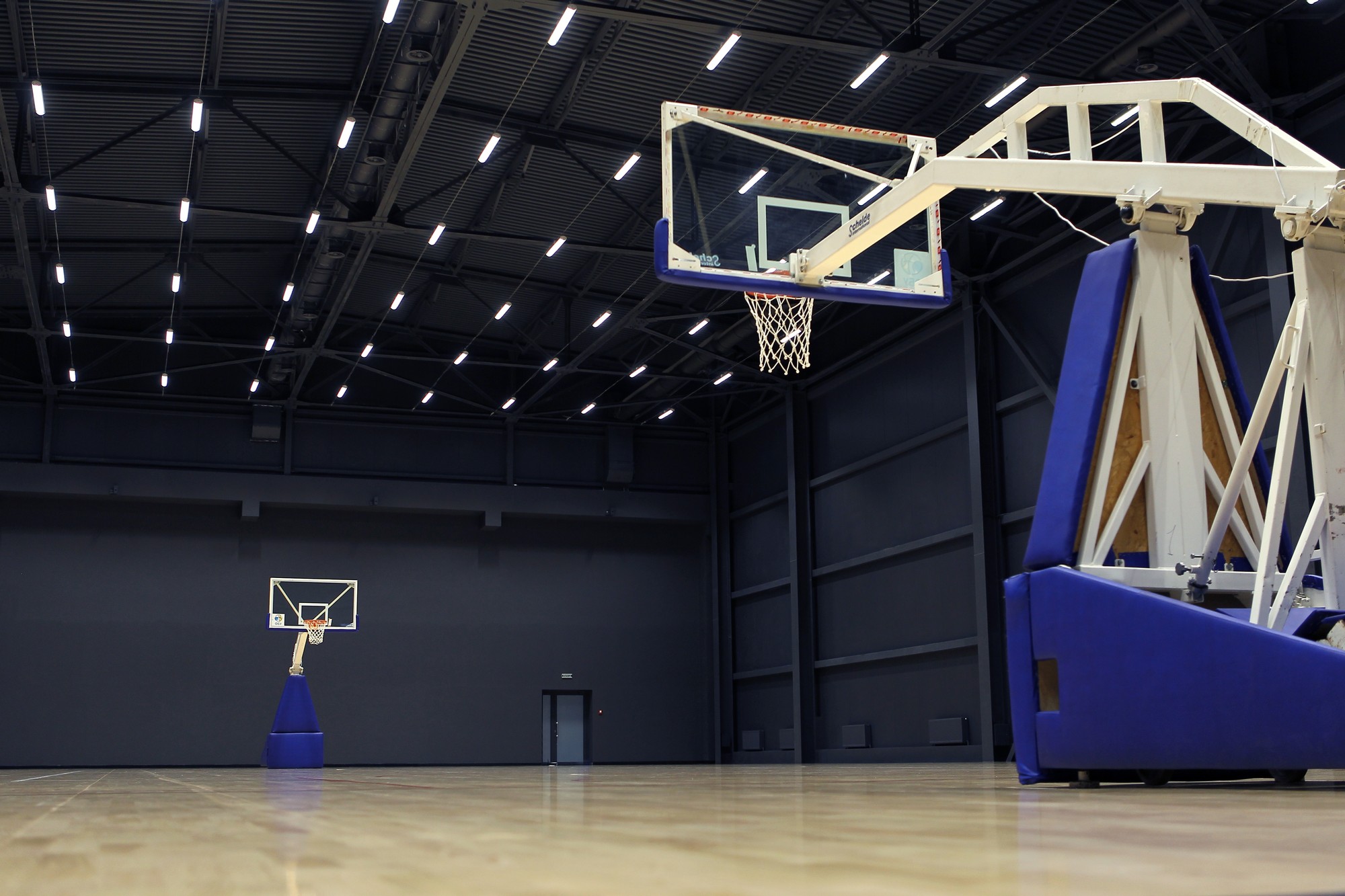 - Oleksandr, you are the TOP coach of Ukraine in working with youth. This is eloquently evidenced by the fact that half of the players of the National team of Ukraine rose up under your guidance. Share the secret of how to raise a future successful basketball player? I don't think anyone knows that like you do.
- Well, if I knew, we would have strong national teams in all age categories. I don't know if I am the top or not the top, thank you for the compliment, but I have always said and will say, first of all, the system makes the players. And at that moment it turned out that "Khimik" had a very good system. And it has been created for many years. Therefore, I believe that "Prometey" is at the beginning of the journey. And considering how they are trying to organize everything here, I am sure that this is a matter of the not-so-distant future. At that time, "Khimik" was moving towards this system step by step. So, this is the work of many coaches, the entire club, and not the work of some TOP coaches or coaches of a certain age category. Today, as I said, there should be a team above the team. In addition to all this, you need to search talents. After all, if there is talent, there are two options. The first - is not to interfere with him, if he is really a TOP talent. The second is to see this talent, it means to push a little, to help.
- In my opinion, you are quite a non-public person. There is not much information about you, few interviews with you. So, please tell us at least a little bit about yourself. How did you fall in love with basketball? At what age did you start sports? Who were your first coaches?
- I am from Kharkiv. I started playing basketball at the age of 10. My father attracted me to basketball and sports in general. At that time, he had many friends who were athletes and basketball players. He is not an athlete himself, but it happened so that his circle of communication consisted mainly of basketball players. He brought me to coach Oleksandr Babushkin. There were two brothers, two Babushkins - one was a coach, the other one was a judge. Later, I got to Serhiy Pokrovenko. And then - to the Institute of Physical Education, where Vladyslav Gudimov also took part. Let's put it this way, I'm a mix, many specialists helped me. However, above all, I love this sport and always set myself the task of winning. I was hungry for the ball, I wanted to throw. Once, I was invited by the president of "Zaporizhzhia" Valery Elkinson. So, I took my first steps in adult basketball in Zaporizhzhia. I am grateful to Valery Albertovych, we communicate with him, he gives advice, we have kept a basketball friendship over years. And then everyone knows my further career. I told about the beginning of my basketball career.
- Are you a tough, authoritarian coach? Is this still part of the profession?
-Let's just say, I'm not an autocrat. Tough. It's really so. Everyone knows this.
- You work with youth. Is there a desire, a goal to work with an adult team?
- My problem is that I don't know English. Accordingly, I cannot work at a high level. Without the language, I cannot understand the mentality of a person who comes to play in my team, I cannot understand it, I cannot communicate.
-Are you in the right place?
-Yes, I am.
- I can't help but ask about the previous matches of the Ukrainian National team, where, in fact, your former players took part. How about the games with Georgia, Macedonia and Spain?
- I am happy for the boys. Today, without a naturalized player, Ukrainians cope well with this position, they have a good look, yes, with some problems, with some lack of the overall picture of the game because the preparation time is limited. But if we talk about character, about the desire to represent the country, the National team has no problems with this today.
-What do you think this national team can do at EuroBasket 2022? Oleksandr Volkov, for example, emphasizes that now we have the most talented National team in the last 20 years...
- I agree that this is a talented team. But it is impossible to make any predictions. Nowadays, basketball in all countries has become so equal that anyone can present a surprise anytime. Yes, we have a good group, anything is possible. However, we can beat any team and lose to any team. As an example, the games with the Georgian National team, we beat them and then, unfortunately, conceded. We will cheer and hope that our boys will really be the best.
- What would you say to the "Prometey" fans on behalf of yourself?
- I want to wish strength and peace. Let basketball really distract from what is happening now. I want to say to "Prometey" fans that we will do everything possible to glorify the club. I always tell the guys, we have to fight for this (ed. points to the logo), for where we are now.