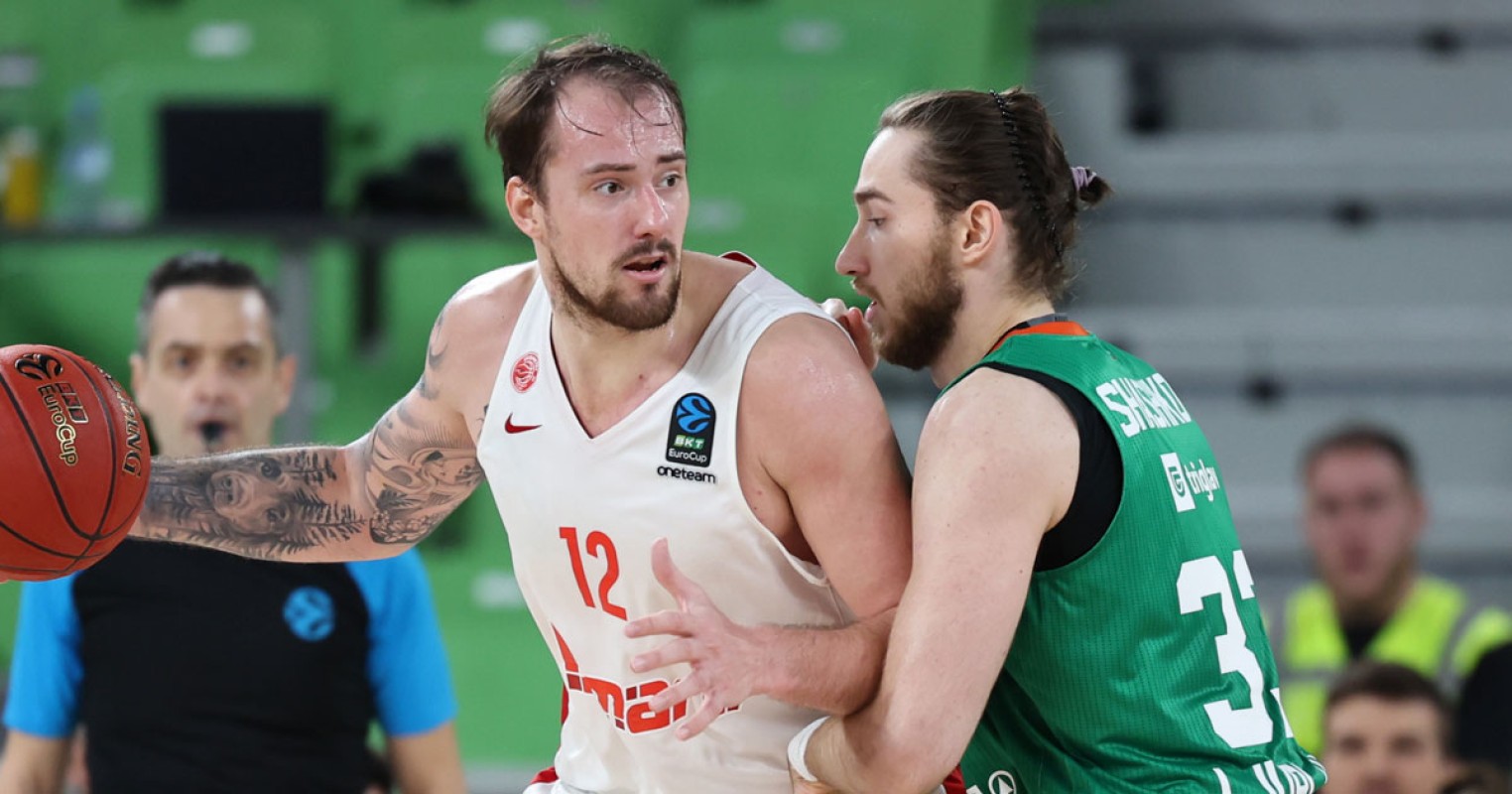 BC Cedevita Olimpija (Slovenia) – BC Prometey – 83:90 (26:18, 19:29, 20:25, 18:18).
    
October 25. BKT EuroCup. 4 round. Ljubljana (Slovenia). Arena "Stozice".
BC Cedevita Olimpija: Cobbs* (0), Blazic* (15), Stewart* (17), Matkovic* (18 + 9 rebounds), Sow* (6), Prepelic (16 + 11 assists), Jones (6 + 9 rebounds), Glas (0), Scuka (2), Shashkov (3).
BC Prometey: Agada* (6), Kelly* (9 + 7 rebounds), Lypovyy* (8), Keene* (12 + 7 assists + 4 steals, Odiase* (9), Sydorov, captain (3), March (20), Bobrov (2), Balvin (11 + 13 rebounds), Tkachenko (10), Petrov (0).
The clash in the capital of Slovenia, Ljubljana, between the local Cedevita Olimpija and our Prometey capped the programme of the BKT EuroCup 4th round in group A. The results of the matches the day before made matters worse in all parts of the tournament standings. For this reason, today's confrontation was crucial for both opponents.
The teams approached this game in different roster conditions. If Prometey could not count on Davon Reed and Issuf Sanon, the hosts of the court, before the match, managed to get reinforced with an experienced player of Slovenian National team Klemen Prepelic.
In the starting quarter, Cedevita Olimpija led in score. At the end of the first ten-minute segment, advantage of Slovenian team reached 9 points (24:15) and they went for the first break as the winner of the quarter. At that, the rookie Prepelic helped his team with 5 points and 3 assists. The percentage of the team's shooting conversion of three-pointers was slightly less than 70. Prometey had just 25.
In the mid of the second quarter, our "great" five with Ondrej Balvin and Tai Odiase reduced the lag to one possession. – 29:32. After two more minutes, after Ronald March buried two foul throws, Ukrainian club finally took the lead back. For the long break, the teams went with Prometey's advantage by one possession – 47:45.
Initiative completely moved to Prometey. Our team started acting more aggressive in defence and, in 25th minute, after rapid productive drive by Oleksandr Lypovyy, handicap of the "titans" reached double-digit – 61:51.
However, our team's win was still long in coming. In 32th minute, after 11th (!) assist by Prepelic, there was only one possession between the teams – 72:70 in favour of Prometey.
At the crucial moment, the "titans" succeeded in open throws from the perimeter (March, Tkachenko). It allowed Ronen Ginzburg's squad to break away from the rival. As a result, Prometey drove the match to the winning result, which allowed to step up to 5th place in group A with 50% of successful matches – 2-2.
On November 1, in Riga, our team will host the group's leader, Paris Basketball, France.